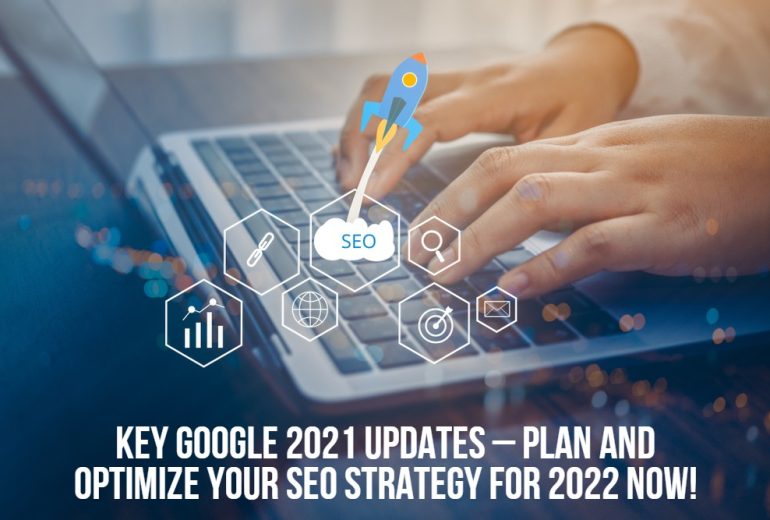 Key Google 2021 Updates – Plan and Optimize Your SEO Strategy For 2022 Now!
Key Google Updates That Every Best SEO agency in India Must Follow
Google Search algorithms are modified numerous times each year to ensure that the most relevant and trustworthy results are shown first in the Google search engine results.
Over the last five years, Google claims that its continual dedication to the searcher experience and the accuracy of data has helped them to reduce the number of irrelevant suggestions to the users.
In this article, we'll glance at the latest Google algorithm changes that have affected SEO over the last year and how SEO services India could use them in their future SEO plan.
Key Google December Update
1- Essential Google Update: Stay away from thin content
Websites or web pages that have "thin content" may face disciplinary action by Google. In other words, when the search engine discovers low-quality or short of relevant content on a site, its ranking may get affected. This is the reason why best SEO company in India avoid thin content.
Thin content, according to Google, is "low-quality or shallow pages on your site," or material that adds little or no value to the user experience. Google also advises that if sites don't "offer users with significantly original or useful material," they may be punished, particularly if they violate Google's Webmaster Guidelines.
Hence, SEO specialists India should always see "content" more than just text; it also includes headers, interactive graphics, videos, multi-media, photos, navigation tools, and other elements.
2- Essential Google Update: Role of Page Experience and Core Web Vitals
What Role Does Page Experience Play in Google Ranking?
Longer page load times, according to Google, have a significant impact on bounce rates. Consider the following scenario:
The bounce rate rises by 32% when the page load time is increased from 1 to 3 seconds.
Bounce rate rises by 106 percent when page load time is increased from 1 to 6 seconds.
Though Page Experience is significant, it isn't the sole ranking criteria used by Google. Even if the website experience is poor, Google still strives to rank sites with the greatest information overall.
Key Page Experience Signals to Consider When Improving Your Site
Page experience is not all about ranking value, according to Google, but each aspect within it has its own values and ranks in the broader Google ranking algorithm.
Let's have a look at each constituent and its effect one by one!
a) Core Web Vitals
Core Web Vitals evaluates the loading time experience for users in terms of speed, availability, and sustainability.
Three particular page performance and user engagement measures make up the Core Web Vitals Update:
LCP (Largest Contentful Paint) – discusses "Loading Speed." It determines how soon a web page's core content loads and is accessible to visitors.
FID (First Input Delay) – discusses "Interactivity." It calculates how long it takes a user to engage with your website.
Cumulative Layout Shift (CLS) – is concerned with "Visual Stability." It calculates the page's stability as it loads for every unexpected layout change that happens throughout the course of a page's lifetime. Each page in the CWV report is given a grade of Good, Requires Improvement, or Poor. To be considered for Good page experience status, a page should have a Core Web Vitals grade of Good.
b) Mobile Experience
Every page on your website should be mobile-friendly. In order to get a Good rating in the Page Experience report, a URL should have no mobile accessibility problems.
Tips for Creating Mobile-Friendly Websites for SEO services India.
Use big, readable fonts on tiny mobile devices.
Arrange your links so that people can quickly click them.
Use a lot of whitespaces to make it easier to navigate.
c) Use caution while browsing
Webmasters may use safe browsing to fix security concerns on their sites. Webmasters may get the security concerns report via Google Search Console, which identifies six security threats: malware, misleading sites, hazardous downloads, and unusual downloads.
For a better page experience and trust, Safe Browsing also gives advice for each sort of security concern.
The following are examples of security risks, according to Google:
Hacked content
Malware
Social engineering
d) Certificate for HTTPS
To be qualified for Google Search's Good page experience status, best SEO agency in India create webpage that delivered via HTTPS. You'll notice a warning banner and the HTTPS section of your site will say "Failing" if your site has a high percentage of HTTP URLs. The addition of HTTPS to page URLs adds three levels of security: encrypted data, authentication, and data integrity.
Obtain an HTTPS via SSL certification as soon as possible.
To integrate structured data to your site's HTML, employ a schema markup generating tool.
The best SEO company in India always verify that the connection to your site is safe. Learn how to protect your site using HTTPS if the page isn't provided over HTTPS.
e) No obtrusive interstitials (Pop-ups)
When surfing a website, pop-ups or interstitials nearly always cause a screaming stop, interrupting the otherwise delightful user browsing experience. This kind of pre-programmed disruption degrades the user experience.
That's why Google's algorithm has been taught to recognize interstitials and punish website pages in SERPs that incorporate this kind of user-hostile behavior.
Since the modifications in Google's plan have been implemented, CWV has become an important component of Google's ranking criteria. As a consequence, when Google generates Search results, it now takes page experience into account.
3- Essential Google Update: Google's Anti-Spam Measures
What Google's Link Spam Update?
Links are the lifeblood of SEO experts in India. They effectively serve as a digital "like" of an academic reference on the internet. It's only one of Google's numerous methods for determining which information deserves to be at the top and which doesn't.
However, since links carry so much weight and top results have such a significant financial influence, an entire business has sprung up to provide links to online material.
Hence, it's part of Google's larger effort to eliminate bogus links throughout the web and in different languages.
Websites with deceptive links will likely suffer a reduction in their ranks as a result of this upgrade.
What does Google recommend to websites on spam linking?
Google's recommendation to websites is consistent: focus on high-quality content and user-friendly online services instead of link manipulations, keyword stuffing, or other black-hat SEO techniques. The reward would be, you'll see your website increase in the ranks.
4- Essential Google Update: Google updated product reviews recommendations.
The Google product reviews update attempts to encourage review information that is relevant and informative. According to Google, these sorts of product evaluations will be prioritized in its search results ranks.
Lower-quality product evaluations with "thin content that basically summarises a number of items" are not immediately penalized by Google.
If you create such content and your rankings degrade, it will seem like a punishment. According to Google, this isn't a punishment for your content; rather, it's a way of rewarding other sites for having informative and genuine review content.
Google checklists for a product review
Google suggests that your product reviews address these topics and provide answers to these inquiries. ​
Offer specialist product knowledge when appropriate"
Provide original information beyond what the manufacturer provides
Offer quantifiable data on how a product performs across several performance categories
What distinguishes a product from its competitors?
Compare and contrast items, or explain which products are better for certain needs or circumstances?
Discuss the pros and cons of a certain product based on analysis and research
Describe how a product has changed from prior models or versions in order to make enhancements, resolve difficulties, or otherwise assist consumers in making a purchasing decision.
Identify the product's category's major decision-making variables and how the product succeeds in those aspects?
5- Essential Google Update: Mobile-Friendly Website
Your site must be simple to use on mobile phones and tablets if you wish to engage visitors in 2022. The old norm was "mobile-friendliness," but Google has moved to a mobile-first world, which means it anticipates mobile visitors to be the major focus of your site design. This is called "mobile-first indexing". This term refers to indexing that prioritizes mobile devices.
In an ideal world, your website should steer away from a desktop version. The site should appear the same on mobile and desktop, with a clean layout and mobile-friendly navigation.
Putting It All Together
Being aware of the provided updates will always be a beneficial factor for the SEO specialists India. You don't have to act on every single update. Make changes to alter SERP possibilities. Also, as soon as Core Web Vitals becomes a ranking indication, ensure your site is equipped to incorporate them. That is how you will retain your position at the top of the search engine results.